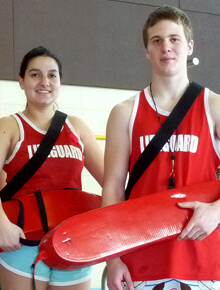 The UNIplex, located in downtown Dieppe, will have a variety of functions meant to serve the entire community and users of all ages. This name highlights the $1-million contribution made by UNI Financial Cooperation to the fundraising campaign. The UNIplex is scheduled to open to the public in 2020.
Several public consultations have been conducted over the past decade and the needs expressed by the community and association groups were considered in the design of this project. The vision of the complex is to provide the community with a meeting place focused on health, wellness and physical activity.
Why build an intergenerational community complex?
The Centenaire Arena was built in 1967 during the Canada Centennial festivities and is at the end of its life. In 2011, a consulting engineering firm recommended its closure. Since then, and until a new complex is opened, the City of Dieppe must invest annually to extend the life of this building. During snowfalls greater than five centimetres, the arena must close its doors in order to remove snow from its roof, which can no longer support this additional weight.
Demand for ice times in the community has exceeded available ice times for several years now. Every year, community members are deprived of local ice time due to the lack of infrastructure.
As the population continues to grow year after year, there is every indication that the municipality needs at least four ice surfaces to accommodate the actual and future needs of its population.
What will the UNIplex be composed of?
The complex will feature an indoor walking track, a community kitchen, an intergenerational greenhouse, community rooms which can accommodate up to 150 people for various events and activities such a dance classes, a primary ice surface with 1,104 seats, and a secondary ice surface with about 60 seats.
These components will provide a variety of activities for all age groups, as well as fulfilling several objectives contained in the City of Dieppe and the Province of New Brunswick's Wellness Strategy.
The community complex will also become a great place for hosting fairs, and cultural and commercial activities. This component will generate significant economic benefits for several businesses. The vision is for it to be an attraction piece for the development of our downtown core and an asset for the development of sports and event tourism. There is even more potential for economic development around the site, and discussions are already under way with possible investors.
Work schedule
In progress
| | |
| --- | --- |
| Work start date | January 2, 2019 |
| Work begins on concrete foundation | February 5, 2019 |

To come
| | |
| --- | --- |
| Steel structure installation starts | March 2019 |
| Opening | 2020 |
In short
| | |
| --- | --- |
| Construction costs | |
| Construction contract | $30,590,000 |
| Stage equipment and other | $1,060,000 |
| Total cost | $31,650,000 |
| | |
| Funding sources | |
| Provincial government contribution | $7,250,000 |
| Federal government contribution | $9,575,000 |
| Municipal contribution | $7,075,000 |
| Loan | $3,500,000 |
| Fundraising campaign | $4,250,000 |
| Total funding | $31,650,000 |
Webcam
Take a look at the work in progress with the webcam located on site.
Fundraising campaign
Support the My Complex My Community fundraising campaign! All the details at www.complexedieppecomplex.ca
Congratulations to Jean-Claude Cormier and Sean Greene, the lucky winners of the My Complexe My Community contest! Thank you to everyone who participated!