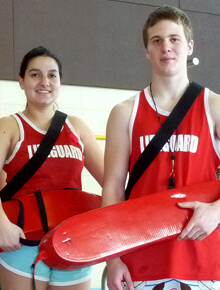 Babysitting course
Duration

Prerequisite

Description

Next course

7 hours

11 years old before December 11, 2018

This course covers everything from managing difficult behaviours to essential content on leadership and professional conduct as a babysitter. Babysitting promises to deepen and enhance the responsibility that older youth feel when caring for younger children. This updated curriculum, complete with new science, also provides improved learning when it comes to giving the appropriate care in the event of an emergency.

Items to bring: a lunch and a teddy bear or a doll
Location: Rotary St-Anselme Park
Cost: $50
Language: French

Registration: Begins on Monday September 24 at 6 p.m. for residents and on Wednesday, September 26 at 6 p.m. for non-residents. Registration will be held online or at 111 Aquatique Street. To register online or in person you must have a profile number.

November 24, 2018

From 8:30 a.m. to 4:30 p.m.
Water safety instructor
Duration

Prerequisite

Description

Next session

Intensive classes over one weekend followed by instruction internships.

Junior 10 level

Must be 15 years old befor October 22, 2017

Prepares participants for teaching Red Cross swimming programs.

Information and instructions in French.

To come
Bronze Medallion Award
Duration

Prerequisite

Description

Next session

24 hours

Junior 10 level

Must be 13 years old before October 8

This award teaches an understanding of the lifesaving principles. Rescuers learn lifesaving skills involving conscious and unconscious victims of various types. (Info in French)

Friday 5-8:30 p.m.
Saturday and Sunday 8 a.m. - 4:30 p.m.
Monday 8:30 a.m.-4 p.m.

October 5 -8
Bronze Cross award and Emergency First Aid
Duration

Prerequisite

Description

Next session

30 hours

Bronze Medallion

or Assistant lifeguard

Bronze Cross is a prerequisite award for all the advanced training programs, including National Lifeguard. The Emergency First Aid training is combined with the course, since it is also a prerequisite to obtain this award. (Info in French)

January 6, 7, 9, 12 and 13
National Lifeguard Award
Duration

Prerequisite

Description

Next session

51 hours

Be at least
16 years old,

Bronze Cross Certification

Standard First Aid with CPR-C

National Lifeguard is a legal certificate for lifeguarding throughout the country. The National Lifeguard certification is available in four options: Pool, Waterpark, Waterfront and Surf.

The required minimum age is 16 year old and to also have completed the Bronze Cross award (need not be current). The Workplace Standard First Aid with CPR-C is also a prerequisite for the National Lifeguard award.

To come (possibly in May)
Workplace Standard First Aid with CPR-C
| Duration | Prerequisite | Description | Next session |
| --- | --- | --- | --- |
| 16 hours | Must be 12 years of age | Workplace Standard First Aid provides comprehensive training covering all aspects of first aid and CPR. Workplace Standard First Aid incorporates all of Emergency First Aid and is designed for those who require a more in-depth understanding of first aid. | To come |
H2O Master Swimmers Club
| | | | |
| --- | --- | --- | --- |
| Duration | Prerequisite | Description | Next session |
| September to May | Must be 18 years of age | Perfection of swimming techniques. Instructor on hand to provide advice. Info: www.mh2o.ca | September 5 - May 31 |