Each year as winter approaches, the city's snow and ice removal plan is updated to reflect any new streets that have been added. Priorities are set based on the importance of streets to Dieppe's overall transportation network.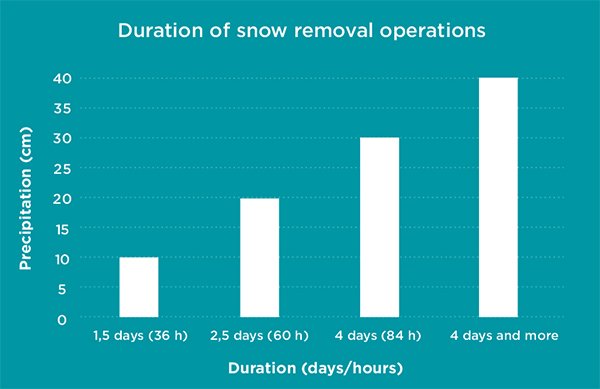 Snow removal priorities for streets

| | |
| --- | --- |
| Priority 1 | Major arteries (Acadie, Amirault) and collector streets with heavy traffic (Paul, Dover) |
| Priority 2 | Collector streets (Pascal, Thomas, Centrale) and some local streets with significant traffic (Lafrance, Vanier) |
| Priority 3 | Local streets (Murielle, Orléans, Marguerite) |
Staff responsible for snow and ice removal must take the following factors into account when making decisions: type of snow, weather forecast, time of day, day of the week, road surface temperature, available equipment, safety, etc. After considering these factors, teams are then dispatched.
The city tries to minimize the effects of snow and ice on residents, but motorists are responsible for adapting their driving to road conditions. If streets are slippery, slow down!
Snow and ice from sidewalks, trails, parking lots and fire hydrants are also removed in order of priority.
The city is responsible for clearing snow and ice from approximately:
192 kilometres of roadways
67 kilometres of sidewalks
33 parking areas
1,554 fire hydrants
39 kilometres of trails
Cancellation info
This winter, stay up to date on facility closures by visiting the cancellation info page or calling our cancellation info line at 506.384.DIEP (3437).
Snow removal from trails
The city is responsible for clearing snow from its trails. Priorities are based on user needs. For example, trails leading to schools are the first to be cleared. Trails located in wooded areas must be cleared during the day when sunlight is available.
Snow removal from cul-de-sacs
Normally, staff try to avoid piling snow in the middle of a cul-de-sac and will push the snow towards the curbs and distribute it as evenly as possible.
However, for 20 culs-de-sacs in the city, where space between driveways is limited, the snow is placed in the centre of the cul-de-sac:
Marceau
Danny
Poitou
Chianti
Chablis
Cabernet
Syrah
Conservation
Houlahan
Nugent
Célestin
Sapin
Frênes
Danube
Twohig
Vézina
Seine
Rochefort
De la Colline
Albini*
Évangéline*
Bayview
*As needed
Lawn damage
Snow removal staff make every possible effort to avoid damaging lawns, but sometimes damage is inevitable. A list of impacted lawns is kept, and repairs are carried out the following spring.
I just shovelled the end of my driveway and the snowplow just filled it back in.
Snowplows sometimes have to make several passes to completely remove snow from a street. Whenever possible, wait until the snow crew has finished its work before shovelling the end of your driveway. That way, you will only have to shovel once!
Adopt a fire hydrant
Dieppe's 1,531 fire hydrants are cleared of snow once the streets are completely plowed and not necessarily after each storm. Residents are encouraged to adopt a fire hydrant to help with fire protection efforts.
Winter parking
To assist with snow clearing, residents are asked not to park their vehicle on the street between midnight and 7 a.m. Winter curbside parking this year will be permitted until the first 5-cm snowfall after December 1. The overnight ban will be in effect starting with the first 5-cm snowfall and ending March 31, and drivers who defy the ban could get ticketed or even have their vehicles towed.