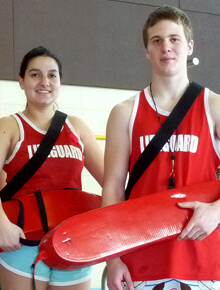 450, Collège Street
506.877.7900
info@dieppe.ca
The UNIplex, located in downtown Dieppe, is a multipurpose facility that aims to serve the entire community and users of all ages.
Codiac Transpo offers bus service to the UNIplex.
Ice surfaces
The UNIplex has two NHL-size ice surfaces.
The COOP IGA surface has 65 seats and can also accommodate 85 people standing. This surface is designed for sledge hockey, with plexiglass in front of the players' benches and the penalty boxes which allows them to see what is happening on the ice. It also has a direct and unobstructed access to the ice surface from the doors of the players' benches and penalty boxes.
The UNI surface has 1,100 seats and can also accommodate 200 people standing. The rink is also equipped with a giant screen (16 feet).
The UNIplex has 10 change rooms, two of which can accommodate sledge hockey players, as well as one for coaches and one for referees.
Ice Rental Rates
Day

Monday - Friday

6 a.m. - 3:45 p.m.

Prime Time

Monday - Friday 4 p.m. - Closure

Saturday & Sunday 7 a.m. - 9:45 p.m.

Evening
Monday - Sunday

10 p.m. - 1 a.m.

Accredited

Youth Groups

September 1, 2021 to April 30, 2022
$155
$260
$210
$155
Community kitchen
The community kitchen has six workstations with room for two people each. It is equipped with a ceiling camera that projects the chef's or instructor's demonstrations onto a 60-inch screen. The kitchen also comes with a refrigerator, oven, dishwasher and a variety of other equipment.
Opening to come
Medavie community garden
This greenhouse was designed as an intergenerational demonstration and teaching facility. Various types of plants will be grown there, using hydroponic and traditional methods. Twenty-five percent of the harvest will be donated to food banks.
Grow your own garden (pilot project)
Looking to grow your own vegetables and herbs? The City of Dieppe, in collaboration with the Garden Cities Project, is launching an educational pilot project using raised bed gardens and soilless (aeroponic) gardening techniques at the Medavie Community Garden located in the UNIplex at 450 College Street.
Gardening rotations
Two rotations are available. The first one will take place from October 4 to 31, followed by a second one from November 1 to 29.
Gardener's responsibilities
Each registered gardener agrees to:
Donate at least 25% of the food they harvest to the food bank.
Attend a weekly training session on Mondays from 6:30 to 8:30 p.m. or Thursdays from 10 a.m. to noon.
Follow the rules of the facility and commit to tending to their plants as they grow.
If using a raised garden, maintain their own plot until the end of the project.
Document all activities on the worksheets provided.
Notify the Garden Cities Project of any problems that may arise and seek advice or assistance if necessary.
Registration
Register now by calling 877.7905. Places are limited so register soon!
J.D. Irving walking track
The track is approximately 200 metres long and divided into three lanes.
Hours of operation
| | |
| --- | --- |
| Monday to Friday | 8:30 a.m. to 9 p.m. |
| Saturday and Sunday | 8 a.m. to 8 p.m. |
Assomption Vie training gym
This 95-ft-by-25-ft room can accommodate teams of 30 athletes (maximum of 20 during the pandemic) and houses a range of fitness equipment as well as two 60-inch screens and an integrated sound system. The gym also provides access to two change rooms equipped with lockers and showers (closed during the pandemic).
The space is not open to the general public but is available for rental by schools, sports groups of all types and for specific programs.
For rental rates, click here for Policy L-1.
Meeting rooms and multipurpose room
MacArthur's Paving Group room
Room size: 21 ft x 19 ft
Meeting table: 48" (4 ft) x 144" (12 ft)
Maximum capacity: 10 people (4 during the pandemic)
Screen size: 70"
MNP room
Room size: 30 ft x 20 ft
6 tables, each measuring 30" (2.5 ft) x 72" (6 ft)
Maximum capacity: 16 people (12 during the pandemic)
Screen size: 86"
Kitchenette with sink and refrigerator
La famille Daniel multipurpose room
A large space (72 ft x 21 ft) that can be divided into three smaller rooms with automated partitions
25 tables
Maximum capacity: 100 people (1 room of 30, or 3 rooms of 10 during the pandemic)
Several windows, with automated curtains to control the brightness
Technology provided (from left to right)

Room 1: screen (86")
Room 2: projector (8 ft)
Room 3: projector (12 ft)
Room 1 connects to the community kitchen.
Room 3 has a wall of mirrors and a dance bar.
Room 3 has a large black curtain to hide the mirrors if desired.
For rental rates, click here for Policy L-1.
Bistro Gaston
Business hours: effective July 5 and until further notice
Monday to Friday 9 a.m. to 7 p.m.
Saturday and Sunday 11 a.m. - to 7 p.m.
Telephone number: 877.7937
RinkSide sports shop
Telephone number: 877.7949
| | |
| --- | --- |
| Monday to Friday | 4:30 - 8:30 p.m. |
| Saturday and Sunday | 9 a.m. - 5 p.m. |
Fundraising campaign
Thank you to all the people, organizations and businesses that contributed to this great project!

$1,000,000 and more / Governer

UNI

$500,000 - 999,999 / Visionary

JDI Irving

$100,000 - 499,999 / Builder

Master Packaging

Assomption Vie

Medavie

The Sobey Foundation

Coop IGA Dieppe

La famille Daniel

CF Champlain

RBC

$25,000 - 99,999 / Benefactor

Pomerleau

Le Groupe Jean Coutu

Club Rotary Dieppe

MNP

Dexter Construction Company Limited

Fero Waste & Recycling Inc.

Terry Coyle – TRC Hydraulics

Coastal Inns

Captain Dan's

Banque Scotia

Atlantic Mazda

McIntyre Finn

Fondation Marc Allain

Liberty Utilities

Marcel Girouard

Roy, Byrns & associés

Bobby & Kim Cormier

Englobe Corp.

EXP

Ivan's Camera / Audio - Visuel

MacArthur's Paving

Royal Lepage - Danielle Johnson

Molson Coors Canada

$10,000 - 24,999 / Partner

Eastern Fence

Lockhart Foundation

Bonte Foods / Chris Brothers

Centre Dentaire BLM

Irénée & Gisèle Bourque

LuMar Electric Inc.

Nanoptix Inc

Maisons Levesque

Betty & Yvon Lapierre

Brian & Shelley Brun